Ack, it's February already!
I did finish challenge #1, I just don't have any good pics at the moment, so that will come later.
The challenge for February is a bag, easy right? I LOVE making bags, they're such great projects for making you feel accomplished.
But there's one tiny stipulation on this challenge… it has to be from a bag pattern you've never used before.
Ack.
Therein lies the challenge for me! While I love to make bags I've only ever used a pattern for that really cute lunch bag I made several times from this great tutorial. All my other myriad (slight exaggeration, but only slight) of totes and bags and purses I've just winged because… bags!
Well.
I have a pretty large board for bags here on pinterest, and another one for wallets and clutches which have been mainly for inspiration.
But with the intention of following some directions I mostly cut out the "Dubstepper" messenger bag by Robert Kaufman.
So I'm going to finish that (which also counts toward challenge #8, finishing a WIP!), hopefully.
That's the Dubstepper, I think I'm going to modify the flap though…
I'm trying to find patterns that will work with fabrics I got to make bags, and then I'm going to try to just make as many bags as I can squeeze in for this month. Of course, that was also my intention last month, to make several accessories, but I only got one done so we'll see! I quite like this bag: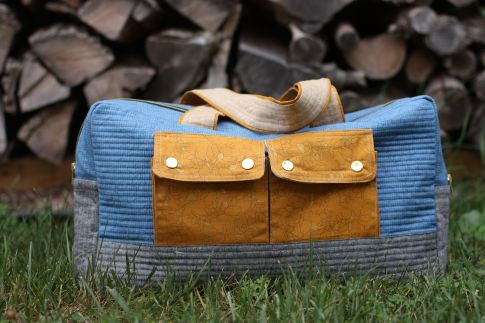 And a friend asked me for an overnight/weekend bag. So maybe?
It's a free pattern from Noodle Head so bonus on the not spending money!
I actually have a lot of ideas already, so it's more challenging to find a pattern that meshes with my vision!
Hopefully progress posts soon.